So, 2008 Comic Con in San Diego and this year I had a camera!
On Thursday I caught the 8:30 AM train out of Union Station. I like the train, and I really like leaving my car at Union Station and either getting on the train or getting on the LAX flyaway, which is brilliant, and when I get back, my car is where I left it. Wonderful really.
This year I was more glad than usual I took the train because I got to see the 20 mile back up from a semi-truck accident on the Camp Pendleton stretch of the 5 freeway. It looked very unpleasant.
I checked into my wonderful hotel, La Pensione in Little Italy, and headed for the con.
I promised to cover a few panels for Jen Contino, but I don't think I was much use to her:
X-Men panel: didn't understand a word of it.
Dark Horse Horror: they have some nice stuff I don't have time to read. Jen did want to know if they were reissuing the old Creepy and Errie series and starting a new run of the Creepy magazine. I was able to tell her yes on all three.
Vertigo panel: didn't understand a word of it.
Fables panel: ooooh, how cute!
DC MOO panel: Well, Jim Lee, whose work I admire very much, chaired the panel, and he's an avid online gamer.
The game looked pretty cool, and if I was a gamer into DC characters I'd be all over it. As it was, I'm not a gamer and asked one of the designers if one could have a beer with Superman in the game. He looked so aghast at the very idea of having a beer with Superman, that I shelved my next question about having sex with Batman because I didn't have any smelling salts with me and he looked like he was about to faint. Just my crazy luck that I'd run into the one puritanical fanboy game designer on earth, but there you have it. But, onward.
I got to see some of my favorite people.
The fabulous Ev DuBocq at VIZ
The ever debonair Karl Christian at SLG
G4 made a lot of people happy with their convention coverage, but they made life a hell for anyone with a booth around them. Especially when Security chased customers trying to buy stuff away for certain G4 events. Under such circumstances, one might feel this way.
In 2003 Molly Kiely introduced me to The Tin Fish, which is now one of my favorite restaurants in California and possibly a larger reason to go to CCSD than I am conscious of.
Very crowded, but, damn, the Tin Fish staff has the crowd thing wired. They take your order while you stand in line. After you pay and get a number for your table, there are spotters who make maps of where the order numbers are and they relay it to the waitpersons. It's like a deep-fired hive or something.
I waited in a lot of lines for panels. I got to wait with Robin.
And watched the world go by.
My schedule was booked well in advance for Saturday morning because my main reason for staying until the nightmare known as CCSD Saturday was to go to the Black Panel.
There was an opening montage of Black heroes, real or imagined, that was quite nice and ended with one of my favorite pictures from this year:
I really enjoyed this panel, even though I wasn't sure which of the jokes I could laugh at. There seemed to be a lot of jokes about lateness and chicken I didn't totally get, but it was great to be there nevertheless.
I'm sorry this photo is blurry. I might have been laughing when I took it. The moderator was Michael Davis. (Sorry, Michael, this photo does not do you justice.)
Method Man, Faith Cheltenham, and I don't know who this last person is. Notice the strategic placement of the water carafe.
John Dokes, Denys Cowan, and Reggie Hudlin
I learned that the original Captain America, Isaiah Bradley, was Black.
Actually, I think I had heard that before, but it was really a great costume.
This young woman asked when there would be more Black women and girl characters in comics.
At least that's what I thought she asked. The answer she got was that Tyra Banks' show was better than Arsenio Hall's show and, well, there's Oprah. But then Reggie Hudlin mentioned that he wrote a little sister, Shuri, for the Black Panther for that very reason.
(One of the things I've always liked about the Black Panther comics is that there are some great women in it. His mom, his sister, his bodyguards, his wife, really any woman in the comic. There was an issue I especially liked with Luke Cage where the bodyguards kept out as many ninjas as Luke and T'Challa.)
There were no big announcements at the Black panel, but it was nice to be in a relaxed community atmosphere where people felt comfortable enough to ask political- and career-type questions. Unlike the DC or Dark Horse panels where it was all business all the time and very clear boundaries between industry and consumer. Even if I don't know when it's okay to laugh at the jokes, I'd rather attend the Black Panel any day.
By the way, I taped the panel, so if some digital/audio wunderkind wants to put the tape, or parts of it, on the web—if that's okay to do—I'd be happy to mail you the tape. Leave me a comment and I'll be in touch.
There was cosplay, but unlike Anime Expo, there wasn't a particular place where the cosplayers were posing. Except for the Art Show area on the second level, where there was a little posing going on. And sometimes the people in costumes seemed surprised I'd want to take their picture. They were nice about it, but seemed puzzled as they posed.
Ah, Elasti Girl and… and… someone else.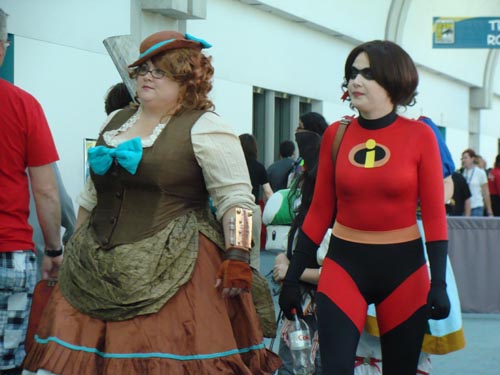 Lots of Jokers, but I didn't get any pictures of the Nurse Jokers, alas.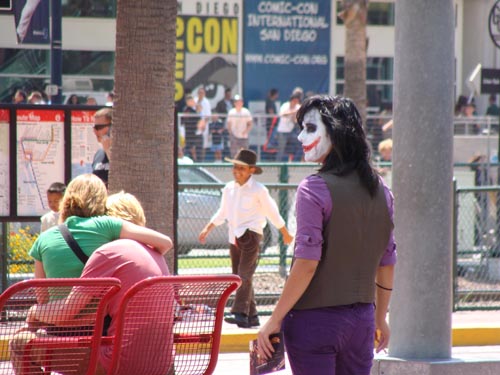 Isn't this going to be painful later on?
Only one of these gentlemen is a member of the Air Force.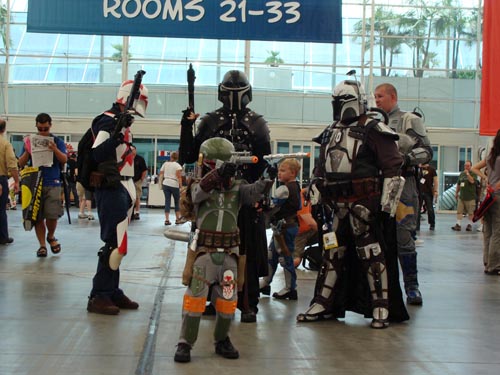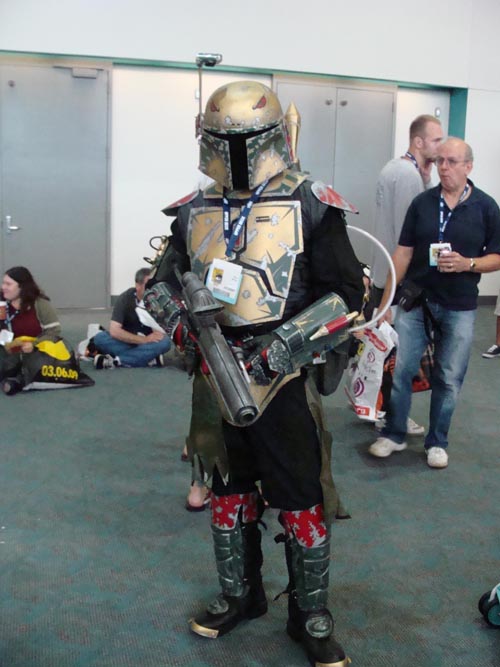 And some cheesecake for the fanboys. Am I nice or what?
And then I got to go home. San Diego has a lovely train station.
Unfortunately they make you wait in line outside to board the train.
It was a good CCSD for me. Having the camera helped a lot.